What are you thankful for?
Posted on

Carolyn

on

November 24, 2015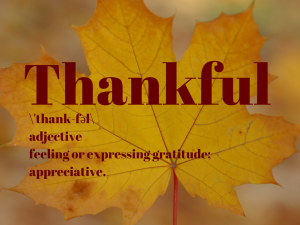 I just got back from 12 days on the road – it started onsite and ended as an attendee. While I missed my family, this trip helped feed my soul and remind me why I do what I do. I'm thankful for being a part of the meetings industry and this trip reinforced that for me.
The first week was spent onsite as a trip director – part of a team. We worked together to handle various aspects of the meeting: anticipating clients' needs, putting out fires and running interference in the background. The long hours, erratic eating schedules and last minute requests were all worth it in the end as the team worked in sync playing off each other's strengths and learning from one another.
The end of the trip was on the opposite side – as an attendee. I didn't have to worry about rooming lists, guarantees, transportation, mail merges or signage. Instead, I got to talk about challenges, celebrate successes and share "war stories" with fellow meeting professionals. This sharing, laughing, and yes, sometimes crying reinforced my passion for this industry, my desire to educate others and the importance of meeting face-to-face.
One of the exercises we did towards the end of the conference was to make a list of people at the meeting who we were thankful for (apropos for this time of year). Once the lists were done, the sharing (and hugging) began. Some of these relationships were new, some already established – all valuable. The outpouring of gratitude was powerful, heartfelt and inspirational. It made me so very thankful to be a part of the meetings and hospitality industry – one that I think is quite special. It's an industry about relationships and customer care, and those involved possess an energy and passion I do not seen in many others.  While my time away from home was long and I came home tired, I was also reinvigorated; with a long "to do" list that I can't wait to tackle.
Carolyn has over 20 years' experience in the meetings industry. Organizing and planning is in her DNA. She started planning meetings in middle school and hasn't stopped. She is always looking for ways to improve the process and share her knowledge with others. Her involvement in industry associations like SPiN and MPI feeds her soul, expands her network and enriches her personal and professional development.