It's All About Perspective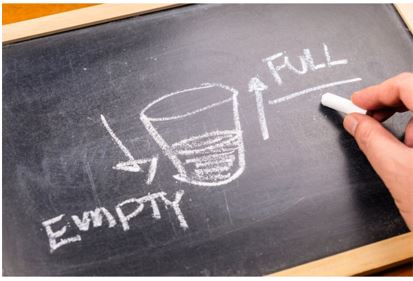 Travelling is never easy and it's often fraught with changes and frustration. On a recent trip, I had to rebook a flight due to some unforeseen circumstances and that precipitated a series of challenges including a missed connection that brought this usually 'glass half full' girl to the verge of tears. I pulled myself out of my funk by changing my perspective and focusing on all the things I should be grateful for:
A good credit limit on my credit card – so I was able to make the needed airfare & hotel changes – not everyone is that fortunate
Being stuck in Chicago – a major city that had options for rental cars and hotels and not being stuck in the middle of nowhere
Being in my home country, so I didn't have a language barrier. I've been stuck abroad and that makes a challenging situation more difficult.
A cell phone that was charged and a charging cord in my bag as backup. Being able to find a hotel room and rental car on my phone instead of waiting in a long line or being on hold forever made it a bit less stressful (note I said a bit!).
Helpful and cheerful hotel staff – I know many are short staffed, but the front desk (and bar) staff at the hotel where I spent the night were pleasant and helpful. They offered me basic toiletries from their magic draw (toothpaste, a toothbrush and deodorant – heaven!) and free bottled water. Having the bar still open was a bonus too!
Finding a hotel close by – it wasn't easy as there were several conventions in town, but with my trusty cell phone I was able to find a clean convenient hotel nearby (hopefully the 40 people on line ahead of me at the first hotel I tried were able to find something)
Rental cars – if this was 2 years ago, I might not have been able to find a rental car. I was happy to be able to book one and that my drive was an easy 3 hours the following day.
Hotel shuttles – saved me from the expense of yet another Uber or taxi (and the other passengers were headed to an Anime convention so their conversation was quite entertaining – though I'll admit I didn't understand most of it!)
Uber – I did need to use 2 Ubers on my trip and both drivers were efficient and friendly. Being able to charge to my card and not use my dwindling cash is helpful too!
Waze – glad to have a GPS on my phone to guide me to my destination and not have to search for a map (remember those?!)
A working car radio – I only had to change stations 3 times on my trip and was able to enjoy some good tunes to keep me motivated along the way
Good weather – it wasn't raining or snowing, always a bonus for me when I'm driving
Free breakfast – upon arrival at my destination, I got to spin a prize wheel when checking in and won free breakfast. An unexpected bonus that brought a smile to my face and my wallet
Staff office printers – when my plans changed, I had a lot of material back in my home office and not with me. I was able to use our printer to print all the documents I needed for my next meeting
Easy care clothing – I hadn't packed for 2 trips, so I was glad that what I had with me was easily hand washed in the sink and that the client on the second trip didn't realize I was repurposing my wardrobe!
A shawl in my bag – I was travelling to different climates and didn't have a jacket or long sleeves for the second one. Handy shawl to the rescue.
Flexible clients – who were able to help update hotel reservations on both ends and who could relate to crazy travel sagas
No travel issues/delays on the way home – I felt like Dorothy when I finally arrived back!
It might sound a bit Pollyanna-ish, but looking for the positive through my two days of craziness helped keep my spirits up and allowed me to arrive at my destination in a better mood and ready to be of service to my clients. How do you view challenges – are you glass half full or glass half empty?