It's All About the Team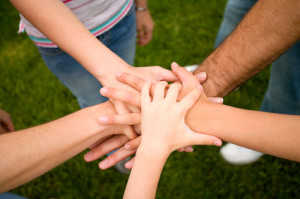 Two months ago I returned from 10 days in Augusta, GA at The Masters.   It was my third year working this event and I'm still talking about it.  I've been a part of meeting & event teams for years and have planned my share of client entertainment at golf outings, but this is really special.
Two colleagues of mine own a meeting & incentive company and love to golf; about 20 years ago they decided to try a client program for The Masters.  They put together a team consisting of a few family members who handled all onsite aspects – driving clients, creating menus, prepping & serving meals, managing ticket distribution, setting up viewing space at the course.  What started with a few host houses has expanded to almost 15 houses and over 100 clients over the week.  The staff has grown as well to include more family and close friends – some who are in the hospitality industry and others who like spending this special time with family and producing this high-quality event.  Many clients come back year after year – they love seeing the same staff, knowing that they will be treated to a first-class experience.
Here's a peak into the week's activities.  Clients are hosted at houses, not hotels and enjoy a seated 4-course dinner upon arrival.  The meals are prepped and served by our staff (although we are not professional chefs in our current roles, the head chefs have all had experience in the culinary field; the rest of us are amateurs who love to cook!). The catering staff spends the days shopping, prepping and baking and evenings cooking and serving the meal. The evenings end with the chefs chatting with the guests and providing insights about the course and what to expect the following day.
I am part of 'team catering' – baking during the day and serving dinner at night.   I have gotten quite proficient at cheesecakes, chocolate goodies and tarts for 30-40 guests a night.  Baking in a kitchen that's not yours with limited supplies often calls for creative improvisation (wine bottles make great rolling pins!).
The catering and driving teams work together – pitching in where needed to ensure a smooth operation. Since many of the team members have been working this event for several years they can anticipate needs and make recommendations.  When 'newbies' come in (I was part of a team of 3 my first year), they are welcomed and quickly brought up to speed.  There are many moving parts and a daily change of guests and this team works in synch to be proactive where we can and respond to last minute changes with ease.
As a team we do whatever is necessary to provide a high quality visit for our guests.  No request goes unconsidered – special liquor, ingredients for signature drinks, dietary requests, cigars, tee-times at local courses – and is delivered if at all feasible.  This year one of our guests realized upon arrival that he forgot to pack a collared shirt, so one of our drivers brought him to a local store to purchase one.  Services that you would expect from a concierge at a hotel and wouldn't presume to get offsite, our staff provides without a second thought.
This Masters event staff often refers to their experience as a week of tough, solid work enjoyed as a total break from their normal day jobs.  It's a week they love and look forward to because of their respect for one another, the time they share together, and their desire to be a part of this exceptional client experience. I echo those sentiments – I was sold after the first year and am already counting down the months until I see my "Masters Family" again.  Very often teams become like families – in this case this extended family becomes a team – one I am proud and privileged to be a part of.