Connecting in Connecticut
Last week I had the opportunity to participate in a new conference – Connect New England. This conference was a great representation of a partnership between the planner and the venue. This resulted in a multifaceted display of the planner's vision to showcase the destination and its local food and heritage throughout the conference. The conference was held in Hartford, Connecticut, in June, bringing in mostly New England-based planners for education and appointments with New England destinations.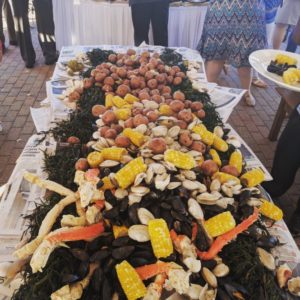 As it was the beginning of summer in New England – what a perfect time for a clambake. For those of you not from the area, those are typically held on a beach; you sit on the sand and dig a pit to cook the food. Well, Hartford is not on the beach (although there is a river!), but that didn't deter our host venue. They prepared us a scrumptious opening night clambake under a tent, sitting at picnic tables, overlooking the river, complete with lobsters, mussels, corn on the cob, a raw bar and a crab boil. Many of my fellow attendees were marveling at the food and atmosphere – it truly ranks as one of the best (and yummiest) opening evenings.

In between education sessions and appointments the next day, the lead planner wanted to incorporate a CSR activity. Incorporating the summer theme with giving back to the community, they chose to do a project for Hartford's Camp Courant, the largest free summer camp in the nation. How can you have an activity for campers that doesn't have a camp-like feel (without the mosquitoes)? The convention center team stepped up to the challenge and transformed the ballroom into a campground – with tents, a campfire and s'mores! Participants could enjoy their roasted s'mores in between stringing jump ropes and filling backpacks with items for the campers (sunscreen, dry snacks and water bottles).


Our lunch was another unexpected pleasure – from the linens (gold swirled like you'd usually see at an evening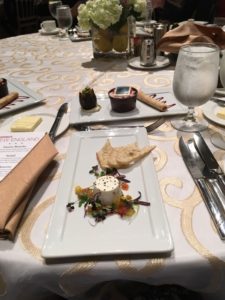 banquet) to the food presentation to the menu. All the food was from New England – local goat cheese panna cotta, locally grown veggies, salmon gravlax from Maine, steak from a local farm and seasonal desserts. It's as if they took a page out of the CMP study aides and followed FLOSS (fresh, local, organic, seasonal and sustainable). I would make it FLOSSY – with a "y" for yummy!

All of these experiences were intermixed with education and appointments. Planners and suppliers had time to talk, learn, relax and share. The second evening was punctuated with "Happy Hour Education." Again – the planner shared her vision with the venue – to offer some cocktails and quick bites that the group could grab and take into a session, mixing networking and education. Several stations were set up – each showcasing a different cocktail made with local ingredients along with homemade soft pretzel nuggets that were sweet, savory or salty (and again, delish!). Folks could grab a cocktail and choose from one of three sessions – all educational, but set up and delivered in a more relaxed environment. Tables were pushed together to have conversation areas; PowerPoints were few; and in one room, they learned how to use exercise bands and towels to exercise at their desk or in a meeting room. What a fun, relaxing way to engage and educate at the end of the day.

The days of the overscheduled conference with ho-hum food and content seem to be gone for good. Engaging all the senses, stretching your venue partners' creative juices, facilitating connections and thinking about participants instead of attendees is here to stay. Hats off to the Connect team, the Connecticut Convention Center and the Marriott Hartford Downtown for showcasing New England and giving us the backdrop to Connect in Connecticut!

Carolyn is a Connecticut transplant who is thrilled to be living in New England – though you won't catch her rooting for any of their sports teams. She was able to say "yes" to having visited almost 60% of the state destinations featured in loop during the breakfast session. Carolyn presented two sessions at Connect New England – including one during "Happy Hour Education".