Improv – Not Just for Late Night TV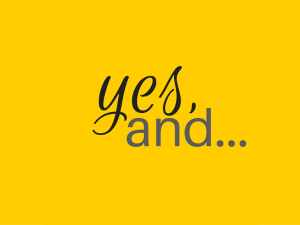 I'm not a comedian (ask my family!) and I don't aspire to play one on TV. I have however, been to a few sessions on the value of improv and how it is a beneficial tool in the workplace.  Here are two key improv skills that can be applied to many work and home situations.
Listen
There's an old adage, "since we were given two ears and one mouth, we should listen twice as much as we speak." That is a crucial part of improv – you need to first listen to what the other person is saying in order to respond. Many improv activities involve having a team (two or more people) complete a story or activity one step at a time. If one person focuses too much on what their desired outcome is and not listening to how the story is unfolding, it stalls.
Yes – and
Another key concept in improv is "yes, and" – concentrating on a positive spin instead of "yes, but." When you combine yes + but, you have taken a positive and added a negative, which puts the other person on the defensive and turns whatever you were trying to say into a reprimand. By using yes + and, you affirm what the other person has said (I've heard you) and then can add or reframe in the remainder of your statement.  This works well in business situations as well as at home (try it with your teenagers and see!)
Try one, try both – you might be pleasantly surprised with the results (and then practice for your Saturday Night Live audition).
Want to learn more? I'm reading Yes, And (Lessons from The Second City) and taking lots of notes on how to incorporate more tools on a daily basis. Want a great speaker who can help train your group on ways to use improv to improve selling techniques – Izzy Gesell is your man! [Full disclosure – I've attended 2 sessions that Izzy has run & thoroughly enjoyed them!]