Incorporating You into Your Brand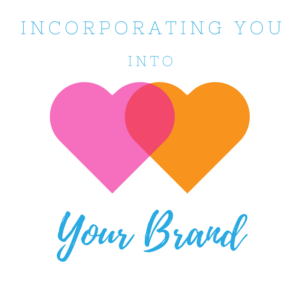 Are you a brand fan? How can you incorporate those elements into your own business to help you stand out from the pack?
I have always had a fascination with Disney – its characters, films and theme parks.  The way they seem to intrinsically understand their customer and their ability to create a sense of wonder, magic and fun can keep me talking for hours.  My best friend and I even tried to get Disney internships in college – eager to find out the secrets behind the magic and be able to 'live the dream', only to have our hopes dashed as our schools were not part of the program. [As a grown up now, it's on my bucket list to attend at least one intensive session at the Disney Institute and I've read several books by former cast members to learn more about how they make the magic happen and how I can learn leadership lessons from them.]
Anyone who knows me, has probably seen or experienced my "Disneyness" (I think I've coined a word!). It's part of my home décor (usually subtle, though it's out in force at Christmas time), my accessories (love my Disney purses), my Facebook posts, and my vacations. I can lead a team winning team on Disney trivia ?.
Since it's such a part of who I am, I've incorporated elements into my business life too. I took inspiration from the "hidden Mickey" concept an incorporated that into my holiday card design – having my logo elements incorporated in unexpected ways. No typical stamps for me – I have a stockpile of Pixar and Disney stamps at the ready. I also add a Disney character twist to some of my icebreakers and have certainly consulted some of my books for ideas and examples about their principles of leadership and teamwork to use in my training sessions. My results are professional – but adding my own authentic element helps me be relatable and stand out.
While I might not have gotten my dream job at Disney, I try to emulate their attention to detail and commitment to customer satisfaction and fun on a daily basis. Why be like everyone else when you can look for magical experiences?
What brand are you a fan of? How can you incorporate some of their touches into your business brand (and make it even better?)
Full disclosure: I am not a branding expert; however, I've taken several classes to learn how to improve my own brand. An exercise we did in one of my classes was to describe a brand you were passionate about and how it could apply to your business. I had already incorporated Disney into my 'personal' brand for years, so as a small business owner it seemed a logical next step.